Fiat top up and withdrawal made easy
Safely trade fiat currencies with verified merchants on Easyshare.Global. Easily top up your wallet and deposit funds into your account(s).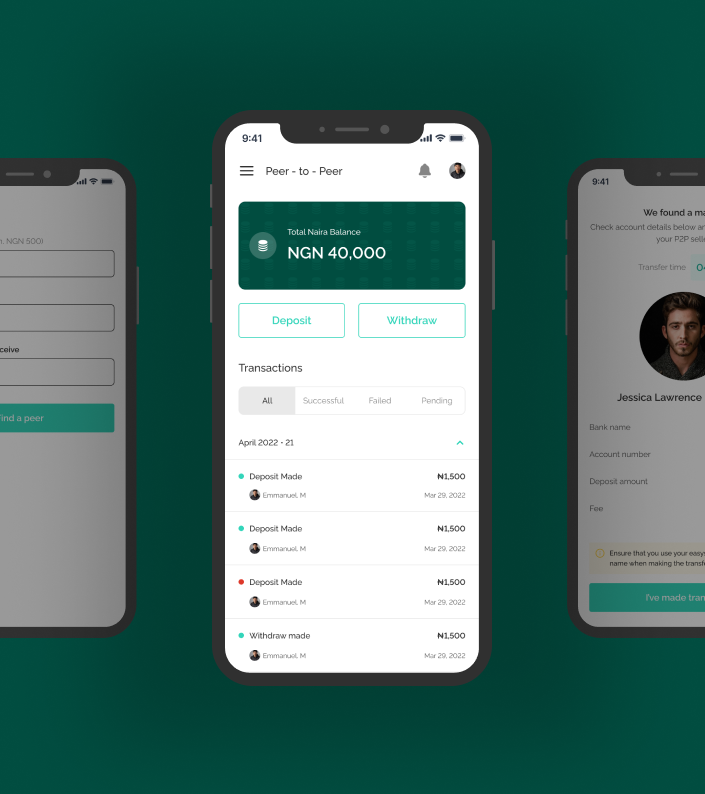 Advantages of P2P

Fast and secure transactions
Enjoy fast and secure transactions. P2P transactions only take 15 minutes or less with our verified merchants.

Low-cost transaction fee
On Easyshare.Global P2p, we offer the best transaction fee for buyers and sellers at a very low-cost fee

No external restrictions
Users are not affected by regulatory restrictions. Transactions are facilitated interpersonally on our P2P marketplace.
Perform quick transactions on your fiat wallet
Perform quick transactions on your fiat wallet
01
Create an account
Sign up on the web or download the app on google play or the apple store.
02
Fund your wallet
Top up your fiat wallet easily using our P2P platform.
03
Start transacting
Buy, sell, receive, and swap crypto easily on the go!
Frequently asked questions
Get answers and clarity to some of your questions
What is P2P?
P2P stands for peer-to-peer, and P2P exchanges are platforms that allow users to buy and exchange fiat currency directly with other users.
How do I top up my wallet?
1. Initiate top-up

Input the amount you want to top up and continue to find a peer.

2. Make a transfer

We will pair you with a merchant and provide you with the merchant's details to make the transfer.

3. Confirm payment

Complete the fiat transaction and click "I have made the transfer" to notify the merchant.

4. Receive payment into Wallet

Once the merchant confirms your payment, the top-up amount will be deposited into your wallet.
How do I withdraw on P2P?
1. Initiate Withdraw

Input the amount you want to withdraw into your account.

2. Select Bank

Select a bank to receive payment into and continue to find a peer.

3. Wait for Merchant's payment

We will peer you with a merchant that will make payment into your account.

4. Confirm payment

Once you receive payment into your account, click on "Payment received" to confirm payment and release funds to the merchant.
What is the minimum amount I can trade on P2P?
Start trading on Easyshare.Global with as low as N200
What is the maximum amount I can top up on P2P?
For level 1 users, the maximum top-up amount is NGN 100,000. To increase the top-up amount, upgrade KYC.